Shijiazhuang Zhengding Lichao (formerly Hengshan) Foam Factory Address: Site: Liangchen Industrial Zone, Zhengding County, Shijiazhuang City. Direct Sales Office: No. 4 West of Hengshan Market, Zhengding County Contact: Manager Zhang Tel: 15931129789 15931129789
Fax: 0311-86321679
Email: 188854666@qq.com
Website: http://3q-levo.com
QQ:
Double-sided aluminum tin air cushion film aluminized bubble film double thickened Shijiazhuang factory direct sales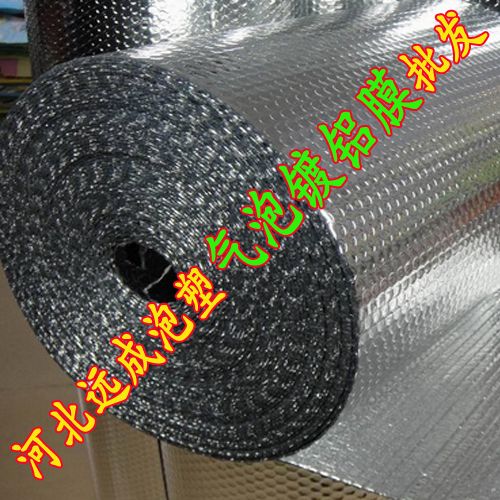 | | |
| --- | --- |
| product name | Double-sided aluminum tin air cushion film aluminized bubble film double thickened Shijiazhuang factory direct sales |
| Origin | Hebei |
| Specifications | |
| sales unit | Square meter |
| price | $ 2.00 |
All quotations for this product do not include tax. If you order more than 5,000 yuan, you can invoice.
There is a lot of uncertainty in the delivery of goods across the country, logistics delivery, and logistics collection. Our factory needs to make payment before delivery, such as quality problems, return and return shipping.
Customers in Shijiazhuang area are welcome to come to the factory to pick up the goods. The order of bubble film can be delivered to the door if the quantity is more than 300 kg.
Pickup address: North of Liangxia Village, Nanlou Town, Zhengding County
Pick-up address of our factory's direct store: Zhengding County Hengshan Market West No. 4 (Lichao Foam Factory)
This is a new type of environmentally-friendly thermal insulation material. The material is soft, light and easy to install. It is made of aluminum foil (or aluminized film) and polyethylene and processed by special machinery. It is odorless and non-toxic. The middle polyethylene bubble layer can be provided with multiple layers of polyethylene bubbles. The bubbles are arranged neatly in the layer. The bubble diameter can be selected from 7-35mm and the height can be selected from 2-8mm. Various colors or fire resistance can be added to the bubble material Substances (fire-resistant bubbles, fire-resistant woven cloth, etc.). The outer protective layer can be painted or compounded with various colors of polyethylene. 不含有害物质,符合ISO14000国际环保认证要求 ,它不仅解决了以往的玻璃纤维和发泡类材料给人体带来的不适感和对环境带来的危害等 , 并且可阻挡穿透铁皮、混凝土、木材和普通的隔热材料而进入房间的紫外线。 This product does not contain harmful substances and meets the requirements of ISO14000 international environmental protection certification . It not only solves the discomfort caused by the previous glass fiber and foamed materials to the human body , but also harms the environment . Concrete, wood, and ordinary insulation materials that enter the room. Through the combination of aluminum foil (or aluminized film) material's light and heat characteristics and polyethylene material, it not only has good insulation, heat reflection, heat insulation and anti-radiation functions, but also uses the material's characteristics in house construction applications. The roof (roof, wall, floor) can play a good role in moisture resistance, heat insulation and energy saving. , 从而在不改变原产品性能的基础上大大增强其抗拉 , 抗撕裂强度。 This product can also use a layer of PE woven cloth on the basis of the original aluminum foil and polyethylene , so as to greatly enhance its tensile and tear strength without changing the performance of the original product .
97% reflectivity, good thermal insulation properties, radiation protection, water vapor barrier
Function and use: It is widely used in industrial packaging, packaging of machinery and equipment, heat insulation layers for roofs, walls and ceilings, water vapor barrier, dust and radiation protection.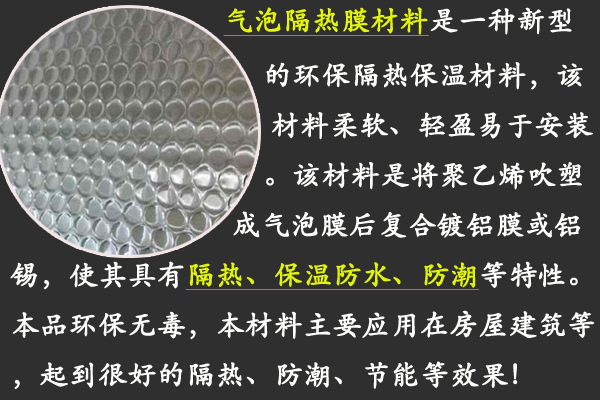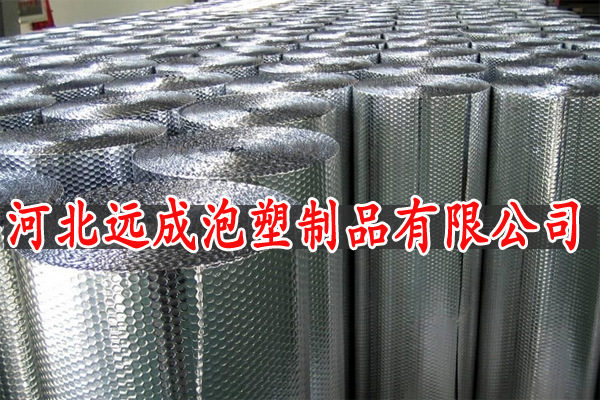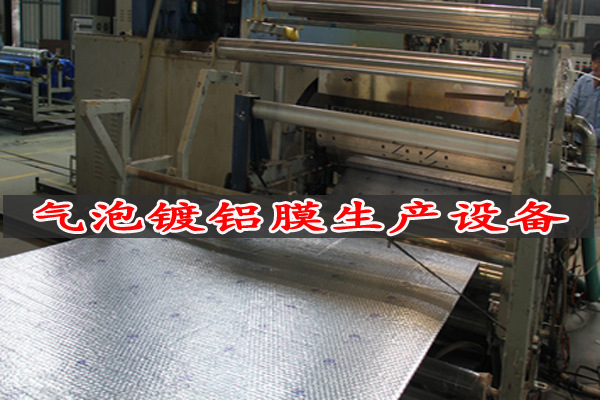 Material
PET
Product Category
New insulation building materials
grade
A
Application range
Thermal insulation
specification
complete
form
Layered bubble-like microporous fibrous other
shape
Concave-convex type rectangular coil sheet square other